ASPaC educational tour in Beijing/Shanghai
2016/02/24-02/28
Duration:  Beijing; February 24 – 26, 2016
Shanghai; February 26 – 28, 2016
Participants:
ASPaC Chairman Fumi Sasada
ASPaC Vice Chairman Takaki Mori
ASPaC Committee member Masanori Eto
ASPaC Committee member Minako Mihara
ASPaC Secretariat Chie Allan
Kensuke Saito (The Japan Foundation)
Places to visit
Beijing
Japan Foundation Beijing
Design Committee of China Packaging Federation
Academy of Arts and Design, Tsinghua University
Shanghai
Shanghai Packaging Technology Association
Shanghai Institute of Visual Art
Upon China's participation in ASPaC from this year, we held discussions with groups and universities that have interests in package design and provided package design seminars so that more students would take part in the competition.
Beijing Reports
Wednesday, February 24
Taking early morning flights, we arrived in Beijing from Haneda or Kansai. We paid a visit to Japan Foundation Beijing office for greeting and reporting the project. We also had a consultation with representatives from Design Committee of China Packaging Federation concerning ASPaC execution in China. This committee plans and operates secretariat for biannual China Star students section and has a connection with Academy of Arts and Design, Tsinghua University. They were supportive of ASPaC and offered their cooperation as much as possible. After the meeting, we had dinner with staff from Japan Foundation and interested members to exchange information.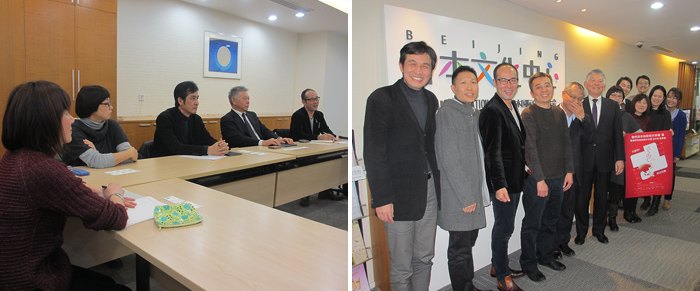 Thursday, February 25
In the morning, we visited Academy of Arts and Design, Tsinghua University and met Professor ZHAO Jian, Associate Professor Yuan Bo and Associate Professor Leo CHAN. We explained the purpose of ASPaC and asked for their support. They showed a great interest in ASPaC and informed us of their intention of playing a central role for ASPaC in China. Considering Academy of Arts and Design, Tsinghua University is the most historic and prestigious institution with great achievements in China and it has a cooperation network with other arts universities which will enable to collect students participating in ASPaC, we were humbled and renewed our expectations.
After a luncheon, we had a seminar at the great hall in Tsinghua University with an audience of about 300, who were mostly students here or of neighbouring arts universities.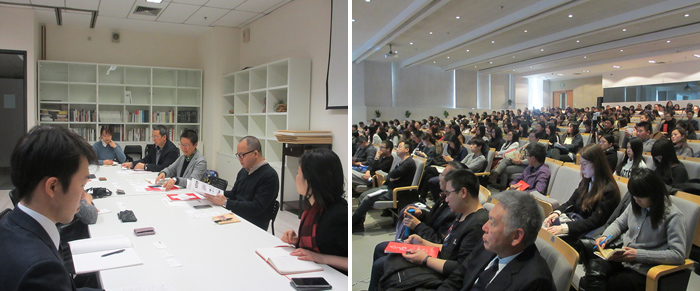 The seminar began, with Chie Allan presiding, followed by Mr. Saito's speech and then the first lecture, "Introduction of JPDA and ASPaC" by Mr. Mori. This was a great opportunity for us to introduce ASPaC directly to students in Beijing.
The second lecture was "Design education in Japan" by Ms. Mihara, who also teaches at Kyoto University of Art & Design. Using various illustrations, she explained the core value of Japanese design education which is to foster both of creativity and talents to be accepted by the society.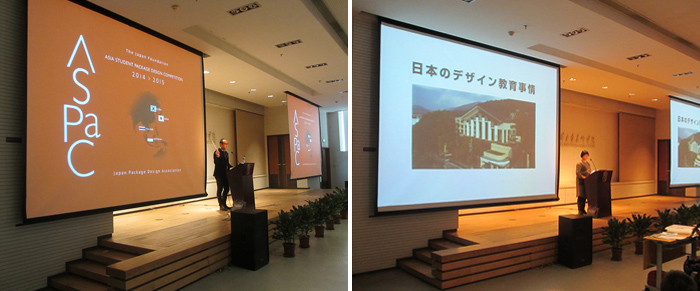 Mr. Eto gave the third lecture, "Regional revitalization and package design in Japan". He introduced some exhibitions with the theme of regional revitalization hosted by JPDA and the issues that became clear in the Japan package design research report by study groups. He also talked about his own projects and work experiences in local area.
After the break, Fumi Sasada, Executive Committee Chairman, gave a keynote lecture, "Actual work in packaging industry". His speech included cases of not only Japan but also China. From the broad branding point of view, he gave a detailed explanation of actual work. It seemed his branding lecture was very new to the audience. They were listening to it attentively.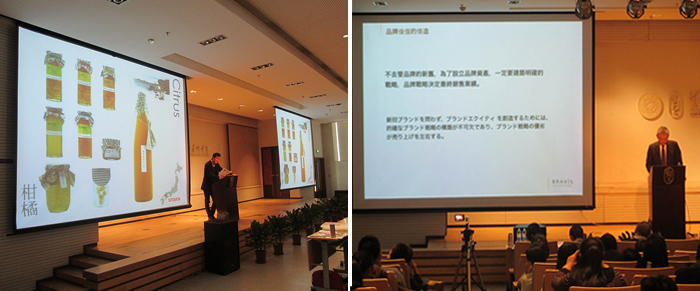 After the seminar, we were invited to a dinner party hosted by Tsinghua University, where we were introduced to professors at neighbouring arts universities who also had graduated from Tsinghua University. We were impressed by the academic network that Tsinghua University had and its degree of influencing or mobilizing power over students. We were very much grateful for their passion for ASPaC and at the same time we were given encouragements.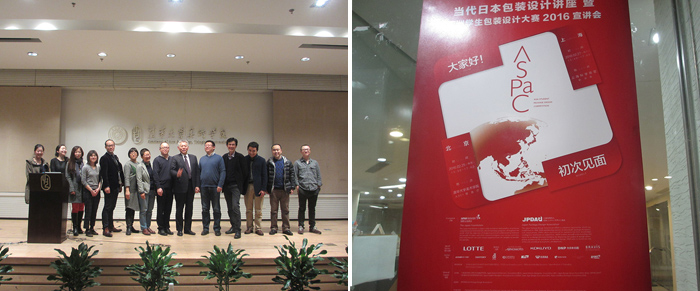 Shanghai Reports
Friday, February 26
After arriving at Shanghai Hongqiao International Airport, we went to Shanghai Science & Technology Museum, where our seminar was expected to be held. We had a meeting with members of Shanghai Packaging Technology Association (SPTA), who were Professor Gu ChuanXi of Shanghai Institute of Visual Art, Secretary-general Zhuang Jian Ming and Secretary-general Song Wen Xian of Shanghai Packaging Technology Association and Mr. Shaojun Zhang. Mr. Shaojun Zhang is running Shanghai PAOSNET Image Design CO., LTD., and fluent in Japanese. When Mr. Sasada explained about the outline of ASPaC, its objectives and the changes adapted this time, they replied that they were ready to fully cooperate. Clerical work such as collection, management and sending the work was also possible. We found that Professor Gu ChuanXi and Professor ZHAO Jian of Tsinghua University had a senior and junior relationship and so we asked them to promote ASPaC project in cooperation with Tsinghua University. After the meeting, we had dinner with members from the Japan Foundation and interested members to exchange information.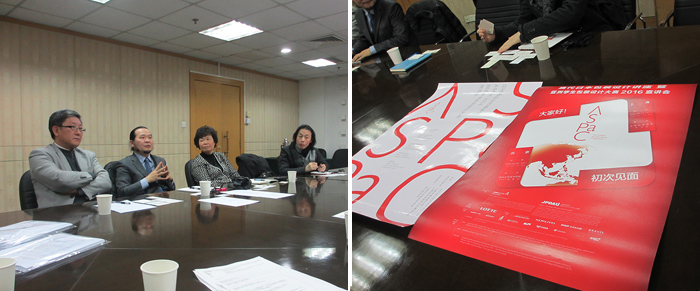 Saturday, February 27
We arrived in Shanghai Science & Technology Museum in the morning. In the afternoon, we had a seminar for students and professors in Shanghai suburbs. There were over 80 listeners, more than the number of seats prepared for this seminar. Mr. Tetsuo Hiro, the director of Shanghai Gojo Specialty Paper CO.,LTD, who had previously worked in Shiseido, kindly rushed to the venue. With more professors as an audience, we arranged our presentation, slightly different from the ones in Beijing, to more suitably meet their interests. Mr. Mori gave a more detailed explanation in his presentation "JPDA and ASPaC introduction" regarding the significance of ASPaC and its ripple effects. Both of "Current status in Japan design education" by Ms. Mihara and "Design and regional revitalization" by Mr. Eto attracted high interests from the audience. The venue became full of hot air. Mr. Sasada made a more thorough and professional speech concerning business and branding process as a keynote lecture. We saw audience was keen on taking notes or taking pictures despite the long sessions.
After the seminar, we exchanged business cards with members from various universities who showed their profound interests in Japanese design and design education on the whole. Then, we were invited to the gathering hosted by SPTA in the historic Shanghai building. We talked each other freely, which led to a better mutual understanding and to fostering a precious friendship for the future.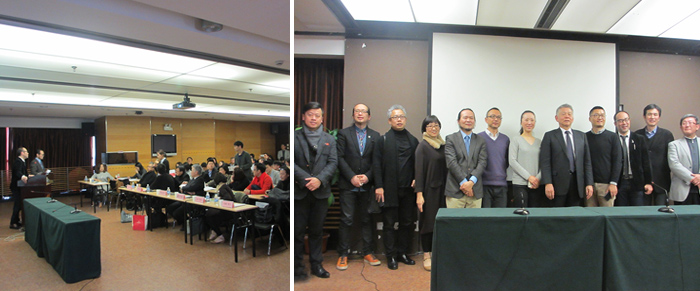 Sunday, February 28
We visited the Bund, where we could see both of modern buildings in Pudong and historic architecture since pre-war era, the gardens built in Qing dynasty and YuYuan.
We also visited Power Station of Art which is built in renovating the existing power station and it is one of the public museums that have been built one after another in recent years. We felt tremendous energy from their design and arts.
We left the hotel at noon for the airport, where we had a meeting to discuss how to share roles among ASPaC committee members.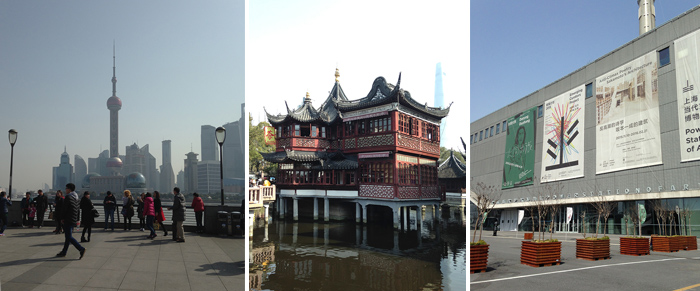 Both Beijing and Shanghai were genuinely interested in Asia Student Package design that is a new way of global exchange programme, and we were sure to have had a good response from them.
We do hope that educational institutions, teachers and students will work together to produce excellent works in the near future.