JPDA International Design Study Tour 2016 San Francisco & Portland
2016/11/5 -13
JPDA International Design Study Tour 2016 San Francisco & Portland
Duration:November 5 – 13, 2016
Venue: The West Coast of the United States (San Francisco & Portland)
Number of participants: 27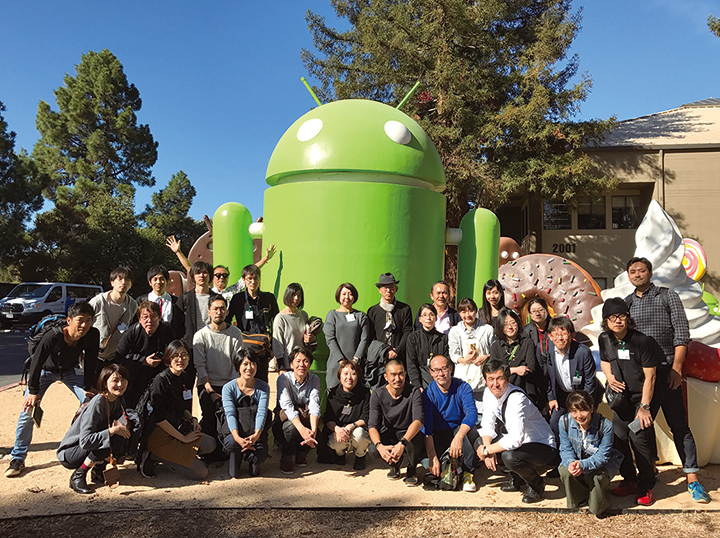 This year's destinations were San Francisco, the creative city where Silicon Valley moves the world with its gathering of high-tech start-ups, and Portland, the city chosen as the best place to live in the United States.
Soon after arriving in San Francisco on the evening of the 5th, we had a get-together dinner. Participants sat around tables grouped by teams for presentations on the final day of the study tour and got acquainted with each other. We had free time on the 6th. Some explored art at the San Francisco Museum of Modern Art and the de Young Museum, others toured the famous places in the city by riding a cable car or visited grocery stores such as the Whole Foods Market. Everyone had a fulfilling day.
We started the 7th by enjoying the view of the Golden Gate Bridge and then visited the Walt Disney Family Museum. The exhibitions of the extraordinary life of Walt Disney who is one of America's greatest creators and his works, productions and concept of Disney Land were overwhelming.
We then proceeded to visit our first design firm, the Studio Hinrichs. Mr. Kit Hinrichs who is the founder of the design firm has had a long career as a designer and speaks around the world. His presentation explained his design works and mental attitudes of designs in relation to those works. Ms. Takayo Muroga Fredericks who has been working with him for many years helped to interpret Mr. Hinrichs's speech for us. His manner of speaking was heartwarming like a teacher and it was a valuable lecture for us.
The next design firm was the Hatch. Ms. Bonnie Powers, Managing Director, Mr. Joel Templin, Co-founder, and Mr. Eugene Heard, Senior Designer, welcomed us. They are engaged in creative work with pride while putting value on "craft" and introduced it happily. The Hatch has led many global brands to success. Their work space was wonderfully furnished with a lot of antique furniture because Mr. Templin loves antiques deeply.

We took a one-hour bus ride to Silicon Valley on the 8th. First, we visited the Apple Store at Apple headquarters. We could feel Apple's manufacturing spirit from the good-quality of the T-shirts and ballpoint pens that are available nowhere else in the world but that store.
Secondly, we went to the Google headquarters. We rode bicycles painted with Google colors to move around the vast site called the campus. We enjoyed Google world watching Google map displayed on a large 6-screen monitor, Android lawn statues were everywhere on the campus and a life-size panel of a former Google employee who attended celebrities.
After that, we went to Stanford University and had lunch there. The campus where the world's best young brains gather was huge, clean, and the students were full of energy and enjoyed great freedom.
The last place to visit on that day was IDEO, a global design company located near Stanford University, where "Design thinking" was created. Mr. David Webster, Partner and Executive Portfolio Director, and Mr. Andrew Evans, Designer, gave us a presentation while we enjoyed an in-house tour. IDEO's unique method was introduced in the presentation such as focusing on making many prototypes quickly. The participants could not stop taking notes because the presentation was "Design thinking" itself making us fully aware and opening our eyes.
On the 9th, we started our visit from Ten Speed Press, a publishing house. Their first publication was a bike book which went on to sell more than a million copies. Later they published the bestselling job-hunting book with more than 10 million copies sold. They told us that cookbooks are often chosen as a gift in the United States and you can tell the taste of a person by looking at the cookbooks in his/her kitchen or living room. They publish many colorfully-designed fascinating cookbooks with the concept of "showing cooking as it is". On leaving the publishing house, we headed for the Mission District where various trends have been created to have lunch and study. There, we visited the pottery brand, Heath Ceramics which world famous restaurants love.
Our next visit was fuseprojet, an industrial design and branding firm where 80 directors and designers from 14 countries work. They provide total design including products, packages and advertisement in a wide range of industries such as Herman Miller's furniture represented by chairs, technology and fashion. The large space at the entrance is open to the public for exhibiting works of various genres.
The last place to visit in San Francisco was Btrax, a branding and marketing agency run by Mr. Brandon K. Hill who was born in Japan. The main service that Btrax provides is startup methods to Japanese companies entering the North American market. During his presentation, the words that impressed us most were "what is being sought now in design is the continued increase in value while in use rather than beauty at first sight". We had another presentation at Btrax from Mr. Naoya Edahiro. He moved to the United States in 2004 and worked for 11 years at fuseproject where we had just visited. After leaving fuseproject, he started his own design practice. We received inspiration from his speech through his experience in various design projects including SAYL Chairs for Herman Miller at fuseproject. It was a very fruitful day and we were able to learn a lot.
Early in the morning on the 10th, we moved from San Francisco to Portland. A new trail of this study tour: a workshop of exploring localities was held in Portland. In addition to design firm visits which were exciting and allowed us to acquire a lot of knowledge, each team looked around the city of Portland chosen as the best place to live in the United States, summarizing what we felt from the designer's viewpoint and then we each made a presentation. We visited many breweries and restaurants which are the sites of current hot topics: craft beer and "fourth wave specialty coffee".
The last day of the tour was hectic. Each team went out for research and returned by noon to prepare presentation data for the workshop held early in the evening. There were some worries about how the teams with mixed members of men and women, young and old would approach the presentations and what kind of contents they would have with such a tight schedule. However, each team made a presentation full of originality and young members mainly played key roles. An in-depth report with valuable photographs featuring the design of the globally popular Ace Hotel, a report of Real Portland which introduced Portland by video shooting while going around the city on rented cycles, a report of the Pendleton Mill tour to learn The American style and a report demonstrating that one of the charm points of living in Portland is the great awareness for recycling. The presentations were diverse and rich.
Mr. Eric Ludlum of Hand-Eye Supply who offered us the place for the presentations uses a translucent handmade trailer office. We realized the importance of old and handmade things as well as the meaning of community there. After the workshop, he gave comments to each team in a polite and quiet way of speaking. We truly spend a fulfilling time.
Visiting Portland made us think about the true richness and the direction of future designs in the age of abundant materials.