JPDA International Design Study Tour 2011 Belgium/ The Netherlands Role of Package Design in the European Mixed Culture Market
2011/11/13 - 21
Report by Fumi Sasada, Director of International Exchange Programs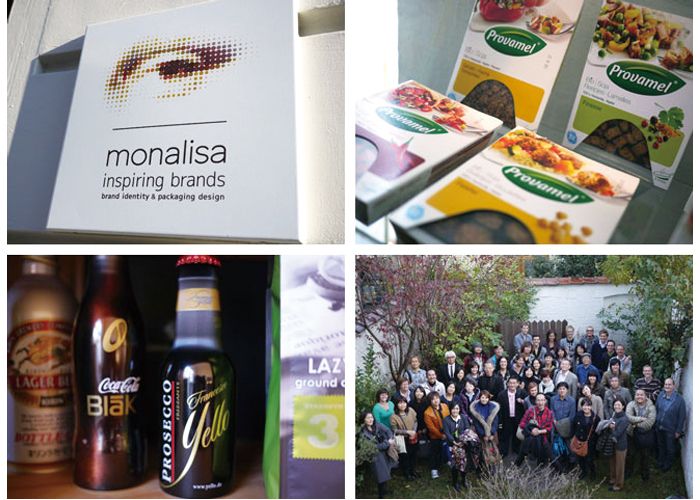 Duration: November 13 – 21, 2011
Venue: Belgium (Brussels), The Netherlands (Landgraaf, Leiden, Amsterdam)
Number of participants: 35
We departed from Narita Airport on November 13th, moved to Brussels after our arrival in Amsterdam. The participants arrived and checked into a hotel in the evening on the same day.
On the 14th, we visited ESKO which is a global supplier of design solutions located about 40 minutes from Brussels by bus.
We saw demonstrations of cutting-edge software used to develop package design and enable discussion about design in shops.
Also, we had an opportunity to hear from Ms. Brigitte Evrard, co-founder of the Pentaward which is one of the world-class package design awards sponsored by ESKO. She spoke to us on very interesting topics concerning the present state of the Pentaward and worldwide trends of design.
Returning to Brussels, we had lunch and then visited Mona Lisa, a design agency, and Design Board, a design consultancy.
Our impression of Mona Lisa was that it is a design agency run by very capable people that has a lot of experience in design renewal for long-selling products.
Design Board is the largest branding design agency in Belgium. Their design developing methods and achievements are as equally impressive as their size.
The following day was for a sightseeing tour of Brussels in the morning and free time in the afternoon.
On the 16th, we took a bus to pay a visit to Vermeulen Brand Design B.V. in Landgraaf which is in the southernmost part of the Netherlands.
We learned about the current state of design in the southern Netherlands, Vermeulen's impressive track record for design development and colors used in designing.
Then we moved to Leiden after having lunch in Landgraaf.
When we reached Millford Brand-id, a multidisciplinary design company, in Leiden, the sun was setting on the horizon.
We were impressed by their award-winning achievements and a good work environment as well as their package design works for private brand products exhibited there. The works we saw were so excellent that they didn't seem like product package design.
Riding on a bus for 30 minutes from Leiden, we arrived in Amsterdam and checked into a hotel.
On the 17th, we had a schedule to visit three design agencies in Amsterdam: Proud Design, Design Bridge Amsterdam and KesselsKramer.
At Proud Design, Mr. Steven De Cleen, Strategy Director and a marketer, told us how they find inspiration for designing. In addition to that, one of their designers presented their previous works and ongoing projects to us.
Proud Design is modest in size with excellent designers as well as unique and original design works.
Design Bridge Amsterdam is a major package design agency, which has offices in London, Amsterdam and Singapore, and a consistent winner of the Pentaward. Their sense of creativity and ideas are outstanding.
Our last visit on this tour was KesselsKramer, an agency dealing with branding design, advertising and promotion. As you can see how they use an old church as their office building, ideas emerged from them continually to create stimulative and inspirational works.
In recent years, the agency ran a promotion campaign titled "I amsterdam" for Amsterdam city with great success.
It was a truly enjoyable visit for all of us.
On the 18th and 19th, we spent free-time in Amsterdam, a city of canals, for sightseeing and making personal observations.
Leaving for home on the 20th, we returned to Japan safely in the morning of the 21st.
In this study tour, all the participants were able to understand the current package design situation in Europe.
One example was that we saw design of private brands was as good as or outperformed that of national brands.
We had a mixed feeling of wonder and envy for the existence of firms and designers in Europe that adopt design proposals which Japanese firms would not use.