JPDA International Design Study Tour 2009
2009/6/9 - 18
Report by Fumi Sasada, Director of International Exchange Programs
Duration: June 9 – 18, 2009
Venue: Sweden, Finland
Number of participants: 36
This year saw the successful completion of our tour of Scandinavia, a region that many JPDA members have long expressed an interest in visiting. Four countries were initially considered as destinations for this year's tour – Denmark, Sweden, Norway and Finland. In an effort to make the trip coincide with the European Package Design Association (PDA) congress that was held in Stockholm in June, however, we decided on Sweden as the main destination, along with Finland, the only country among the four Scandinavian nations with a different language and racial background. Due to the new influenza virus that was going around at the time, there was an unexpected number of cancellations, but the final number of participants stood at 36, exceeding the 35 vacancies that were initially advertised.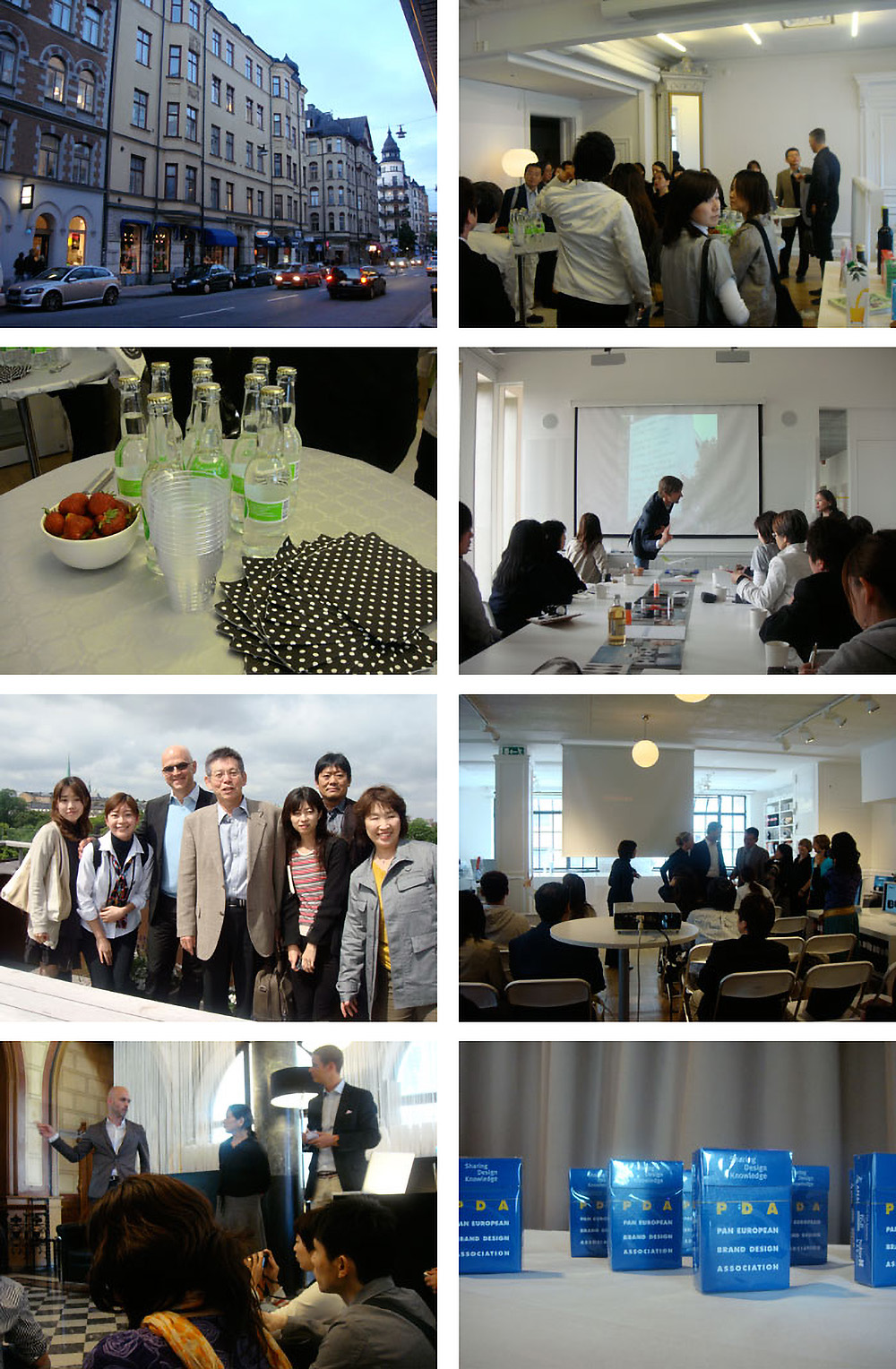 The participants departed from Narita airport on the morning of June 9th, passing through Copenhagen before arriving at the hotel in Stockholm just after 8pm. Thanks to the long Scandinavian summers, the sun was still high in the sky even though it was already night, and some participants took the chance to go shopping despite the fatigue of a long journey. The following day, we toured the city center in the morning and wandered around on our own in the afternoon. The evening was devoted to a dinner and get-together where all the participants were able to introduce themselves and get to know one another.
The plan for June 11th was to visit 5 design companies within a single day – a productive and fruitful itinerary that promises to go down in the history of the JPDA's study tours. The first destination was Silver, a firm that handles the design for a wide variety of typically Scandinavian products ranging from cosmetics to food. Next was Stockholm Design Lab – the largest design firm in Stockholm – which handles various aspects of design ranging from corporate identity and branding to package design, including corporate identity for Scandinavian Airlines. Stockholm Design Lab is also currently working on package designs for Japan's ASKUL and a design campaign for Andersen Bakery, projects which contributed to a feeling of kinship with the tour participants.
BVD, the third company we visited, is also developing package designs for ASKUL. The company focuses mainly on package design and graphics for retail stores, creating simple yet refined designs with a strong Scandinavian identity. BVD were gracious enough to hold a welcome party with drinks and light food, for which we were extremely grateful.
After lunch, we visited Amore, our 4th design firm for the day. Operating out of a building that used to house a bank, Amore boasts a unique interior, featuring a former vault that is now being used as a meeting room, for example. The rich humor and solid concepts that lie behind many of their designs made Amore's work particularly memorable. Their staff were even kind enough to show us several designs currently in progress, and the warmth and friendliness of their hospitality provoked both surprise and anxiety in some of the participants.
Our final destination in Stockholm was Dolhem, a relatively small firm. Dolhem's president gave a presentation in the stifling heat of the meeting room, which was packed with tour participants. The firm mostly handles corporate identity and graphic design, rather than package design. The way in which each of their projects brims with energy, creativity and a wealth of ideas left a strong impression.
On June 12th, we spent the entire day participating in the European PDA congress. The venue for the event was located in a suburb of Stockholm – a modern brick and glass building fronted by the ocean with rocky mountains in the background. The morning program consisted mostly of lectures by invited speakers. Unfortunately, due to simultaneous interpreters who were insufficiently qualified, many participants were unable to fully comprehend the content of the lectures.
In the afternoon, participants split into two groups and tried their hand at designing packages for champagne and beer in a workshop setting. Outstanding entries were selected from among the designs and awarded prizes. Among the JPDA members, Mihoko Hachiuma and Emiko Shibasaki won the Best Design Award for their beer package design, an honor that brought pride and joy to all participating members of the JPDA.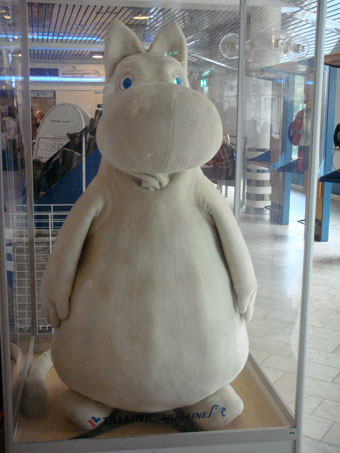 After enjoying some free time on the 13th, we boarded the Silja cruise ship for Helsinki, our next destination. The view from the ship as it sailed calmly across the ocean was quite spectacular, and the remarkably smooth ride was as comfortable as a train journey. The interior of the ship included a shopping mall, supermarket, restaurants and a casino to keep passengers fully occupied. Although we spent only a single night onboard, it proved to be an experience in cruising in style.
We arrived in Helsinki on the morning of the 14th. After a tour of the city center and a simple lunch, we left for the village of Fiskars, located in a mountainous area about one-and-a-half hours by bus from Helsinki. The village is home to the headquarters and factories of the cutting tool manufacturer Fiskars, as well as designers and other people who have moved here to open ateliers, shops and museums. Each of these stores offered a fascinating range of products, and our only regret was that there was not enough time to fully enjoy browsing the wares on display.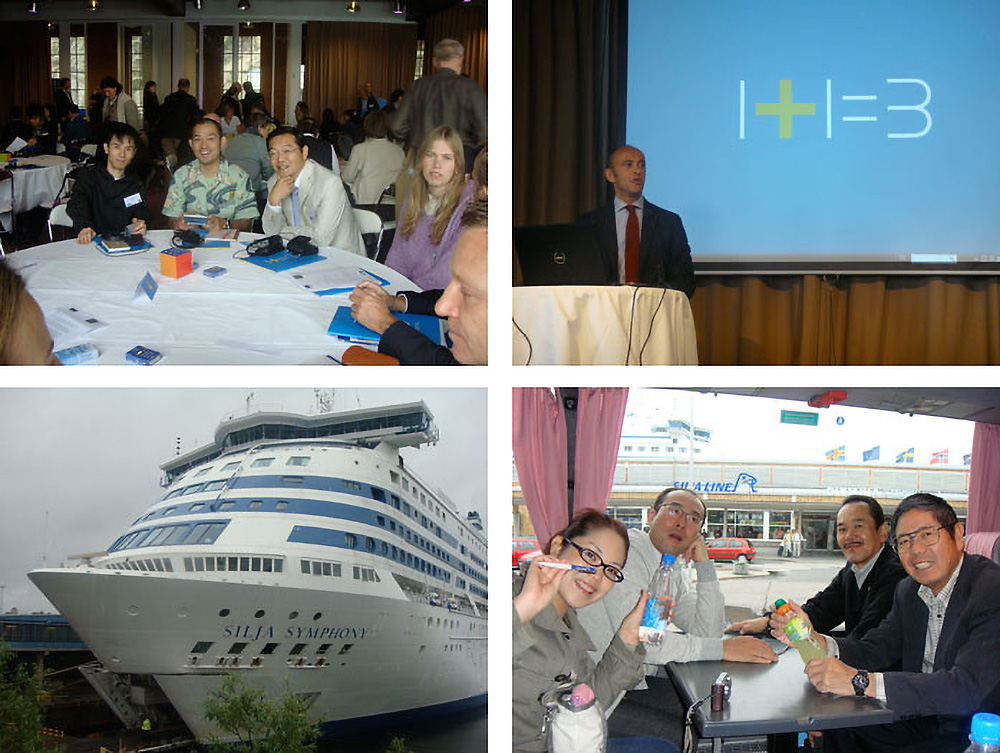 On the 15th, we paid a visit to 4 design firms in Helsinki. Our first destination was Tango, a subsidiary company affiliated with a large advertising agency that enjoys a wonderful office environment. The meeting room was tastefully and carefully designed in accordance with a theme, ensuring that meetings and presentations were enjoyable activities in themselves. Many of Tango's works had a solid sense of creativity, lots of humor and a powerful design impact as well.
Second on our list was King, an advertising and design agency that has enjoyed significant growth within an extraordinarily short period of time, producing numerous well-designed works with a palpable sense of creativity. Participants were impressed by King's pleasant working environment, in which colleagues come together to have fun while getting work done at the same time.
After lunch, we visited Hahmo, one of Scandinavia's representative branding and logo design firms specializing in corporate identity and graphic design. Although Hahmo do not handle many package design commissions, each of their projects was executed to a very high level. Their relatively young staff also had a visible enthusiasm. Our final stop in Helsinki was Win & Win, a design firm that handles a wide variety of projects, concentrating mostly on package design. After introducing their works, the staff at Win & Win kindly fielded each of participants' many questions one by one, making this an educational experience for all present.
Each of the design firms we visited in Stockholm and Helsinki welcomed us warmly and introduced us to a wide variety of design projects of an exceptional standard. We were also extremely thankful for the heartwarming hospitality extended to us throughout the tour, the refreshments that were kindly provided, and even the souvenirs that were presented to each of the participants. Above all, I am happy that each of the 36 participants was able to return safely to Japan despite a punishing tour schedule. Finally, I would like to express my sincere thanks to the director of international affairs, all committee members, the executive director and all staff at the JPDA for their hard work and effort in making this year's tour a success.